CommandBar exists to help users wield software more powerfully. We believe most products should be way easier and faster to use, and our goal is to give product teams the tools to make it so.
To date, we've focused on the ability to use search to command software through the keyboard. Our observation was that doing this through a supercharged command palette allows the user to go faster from intent (what a user is trying to do) to action (that action happening).
Since we launched last year, we've worked with user-obsessed teams like Gusto, Netlify, Freshworks, and others, to delight their 7M+ users. One thing we've heard from our customers over and over again: what happens before a user has intent? Can we point out a new feature when it's shipped, highlight a trending help article when they rage click, or give them a gentle nudge to upgrade when they experience a magic moment?
Today we're launching a solution to help you answer these questions: CommandBar Nudges and Questlists.
Nudge users down happy paths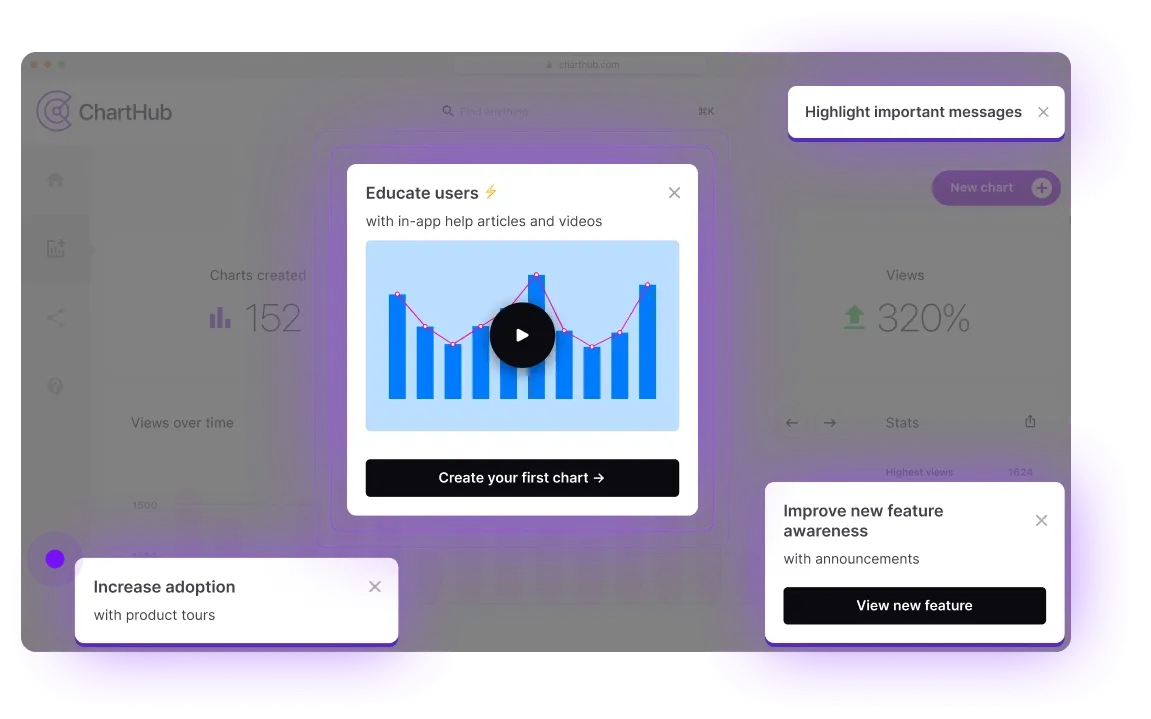 Nudges are a collection of widgets that can be proactively pushed to users with an optional call to action. Today they include modals for feature announcements, beacons for touring new experiences, banners for messages, and popovers for showcasing help content or walkthrough videos. Soon we'll launch other nudges, including the ability to run surveys and collect user feedback through CommandBar.
Guide users to success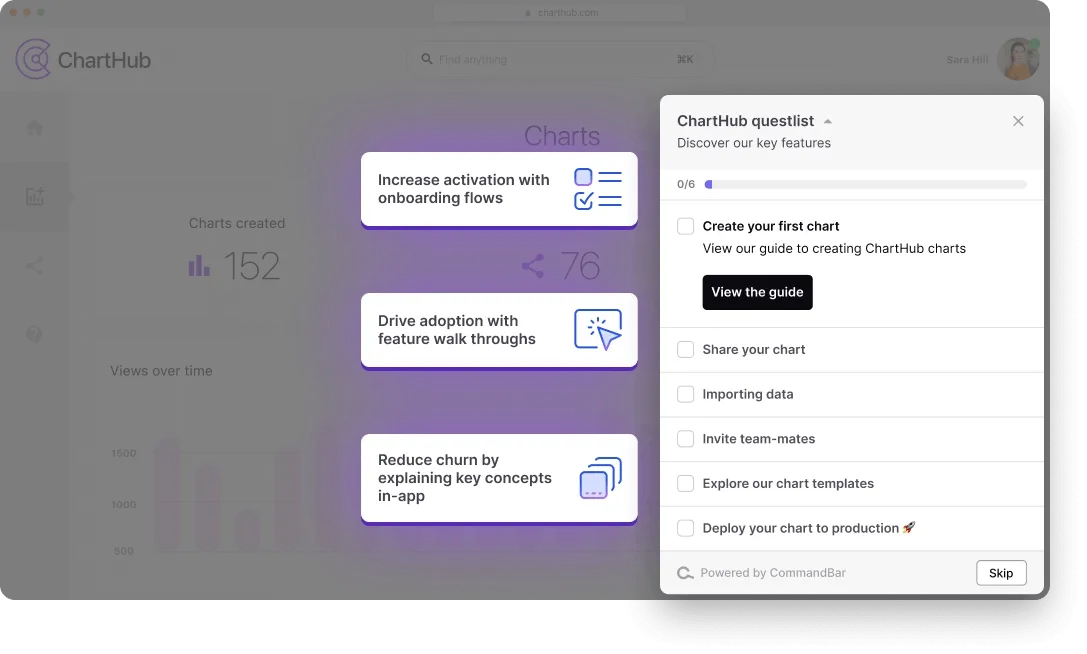 Questlists are our take on the onboarding checklist. Whether you're guiding a user through your app's main quest (onboarding them for the first time) or introducing a side quest (like a new feature you think their past behavior suggests they'll be interested in), Questlists are the answer.
Nudges and questlists can be styled to look like a native part of your app. With our no-code editor or using HTML and CSS, you can make them feel 105% (100% native, plus a lil' extra to make them look even slicker than the rest of your app 😎).
The same user targeting and segmentation that works in our bar also works for launching nudges and questlists. That includes page-based rules, element-visible rules, conditions using user metadata from Segment, or event triggers. That way, you can encourage your users to take the right action at the exact right time. There's integrated analytics, too. So you can measure and iterate on these product experiences and know how many users achieved a particular goal as a result.
Nudges + Questlists + Bar = 💙
Nudges and Questlists play nice with the Bar. Anything that a user can do through a nudge or questlist they can also discover through a search in the bar. Plus, the bar shows all previously seen nudges and questlists.
Together they form an intelligent layer that wraps around your product to make it addictively fast and easy to use — for prospects test driving, new users starting out, and power users in your tool daily.
We really want you to try them, so we're adding a new free plan that includes unlimited nudges and questlists for apps with less than 2500 MAUs.
Nudges and questlists are available now in the CommandBar app. If you need help, check out our documentation or get in touch.
Try it out today - we can't wait to see what you build with them!